With a range of impressive features and the space for up to 13 place settings, the SN236W03IG freestanding dishwasher will give you enough space to invite friends and family over without worrying about doing the washing up.
Looks wise, the SN236W03IG is finished in an attractive white exterior. Thanks to its minimal look, it'll suit any style of kitchen and families of all sizes.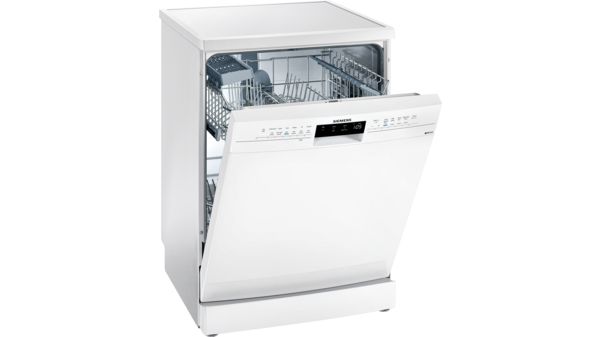 Optimal Cleaning
Running fine glassware through the dishwasher can be a risk, even in some of the most technologically advanced machines. The SN236W03IG dishwasher features a new glass 40c cycle which is specifically designed to care for your glassware.
This cycle will first clean glasses carefully, but thoroughly, at low temperatures. This is then followed by a drying phase which has been specifically extended for extra-gentle drying.
The results from this glass cycle are impressive, and you'll be guaranteed to have gleaming glassware after every wash that you can enjoy.
Also included, to keep your glassware safe is the glassCare system. This consists of a special gentle programme and a heat exchanger which wash your glassware with the greatest of care.
The SN236W03IG Dishwasher also features the Siemens extraDry programme, which uses higher temperature for the drying process and extends the drying phase. This programme is excellent if you wish to wash a lot of plastic dishes, as it will dry the plastic items optimally every time.
AutoProgramme also uses an aquaSensor to check how dirty the water is and controls when and how much clean water is added as well as the dishwashing temperature. This is just another feature to help make your washing routine that much easier.
Ergonomic Design
The basket in the SN236W03IG is also equipped with special devices at the top. When these are pressed, you will be able to easily adjust the height of the top basket in three stages. Therefore, this makes loading and unloading simpler, particularly when dealing with large pots or plates.
Also included is the smart varioFlex feature. This feature will allow you more flexibility to wash larger bowls and bulky items. Simply, fold down the racks in the basket to give yourself more room to work with.
Speed Up Your Routines
The SN236W03IG also features a varioSpeed Plus button. When this is pressed, you will reduce your washing time by up to 66%. The reduced time is immediately shown in the remaining time display. As a result of this, you can ensure that your dishes are always sparkling clean and dry within the shortest time.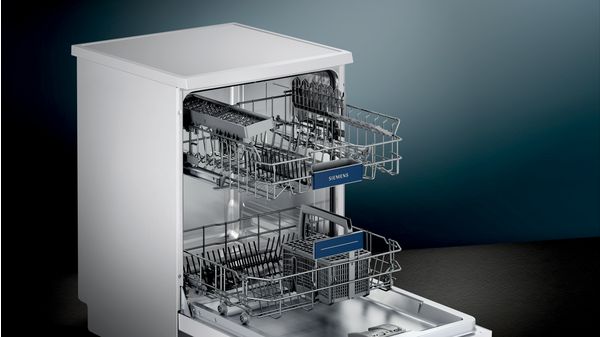 Efficient, Durable and Quiet
Also featured on SN236W03IG is the iQdrive motor. This will provide lower energy consumption with identical performance, short programme times with optimum results and the machine is always quiet, no matter what programme is running. What's more, possibly the most advantageous feature of the iQdrive motor, is that it's brushless - meaning that it runs virtually free from wear.
Keeping Your Family Safe
Everyone wants to make sure that their family is safe and that any programme set on the dishwasher stays on and doesn't have little hands messing with it! That's why the SN236W03IG includes a childproof door lock and tamperproof controls. These will lock all the buttons on the control panel, except the power button - so children cannot accidentally start the dishwasher by pressing the buttons on the panel.
Selecting the best dishwasher that works with your kitchen is just one piece of the puzzle, getting great customer service and delivery options in Liverpool is also essential. At Power Point you can get the Siemens SN236W03IG dishwasher with great service and a guaranteed excellent price, so for more information visit our website or call us today.