Finished in stylish stainless steel, the Siemens KG39NXB35 Fridge Freezer is perfect for keeping large amounts of food fresh for longer. This fridge freezer also has a range of features to help with this process and make family life that bit easier, thanks to a 366-litre net capacity.
What's more, enjoy an A++ energy rating to help you save that bit more on your energy bills whilst accommodating the fresh and frozen storage needs of you and your family.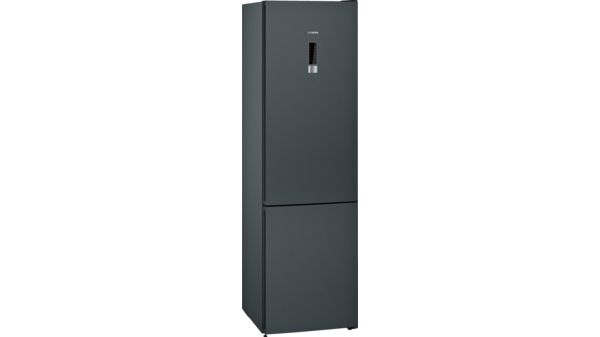 Clever Cooking
Included on the KG39NXB35 Fridge Freezer is a range of cooling features to help you keep your food fresher for longer.
One feature is noFrost. The noFrost technology is a ventilation system that changes the humidity of the freezer, by diverting it away and allowing the air to stay dry. This feature will reliably prevent any frost from forming on the inside of your appliance, or on your food.
The 0c hyperFresh drawer also ensures that any meat and fish you store stays fresh for up to 2x longer. You should by no means have to put up with a drop in quality when storing fresh ingredients, that's why thanks to hyperFresh technology, your fresh fruit and vegetables will keep their crisp texture and less food will go to waste.
The multiAirflow system will also ensure that an even temperature is kept at all levels of the fridge freezer, so therefore the initial quality of your food is retained. This system will also cool recently stored items quickly to ensure that the internal temperature isn't raised unnecessarily.
The hyperFresh feature allows you to adjust the humidity of the hyperFresh drawer. So, no matter whether you're storing Apricots, Broccoli or Lettuce, you can ensure that your food stays fresh for longer.
Smart Storage
The KG39NXV35 is not only full of innovative features to help you keep your food fresher for longer, it also has a range of smart storage solutions.
All of the glass shelves included in this model are made of extra strong, maintenance-friendly safety glass. So, if anything tips, the safetyGlass tray keeps spillages to a minimum and therefore they won't spread to the rest of the refrigerator.
EasyAccess shelves also give you more convenience when adding food to your refrigerator, you can now take out the glass shelves to the centre on profile rails. Therefore, nothing will be hidden from view, and writing shopping lists becomes that bit easier. Of course, these shelves will also slide easily on the rails, and won't tilt when pulled fully out. What's more, you can also completely remove the tray, even when it's full of products.
Also included in the KG39NXB35 is the bottle holder, which will help you to store your bottles safely with the removable bottle rack. The stainless steel rack will help prevent the bottle from rolling back and forth and is even suitable for cans as well as large and small bottles.
To ensure that your food is kept fresh and cool, the multiAlarm system will also alert you with a visual and audible warning if the temperature inside the appliance rises. This can easily happen, for example, if the door is left slightly ajar so it's a handy feature to have - especially in a family home!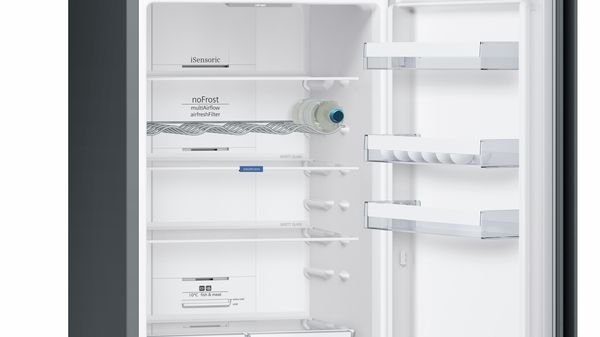 Fits Into Life Perfectly
The KG39NXB35 also runs at only 39 decibels. This is the equivalent of a whisper, so you can be sure that no matter where this fridge freezer is in your home, and how your space is laid out, it'll never interrupt.
Selecting the best fridge freezer for your home is just one piece of the puzzle, as getting great customer service and delivery options in Liverpool is also essential. At Power Point you can get the Siemens KG39NXB35 Fridge Freezer with great service and a guaranteed excellent price, so be sure to find out more today.